Summary: This guide will show you how to connect a Mac running OS X to a wireless router supplied by John Lewis Broadband
Before you begin
To follow these steps, you'll need to know the Wireless Name (SSID) and password for the router you're connecting to
For the purposes of this guide, the Wireless name used in the screenshots is JohnLewisWireless
You'll find the Wireless name and password for your router printed on the back or bottom
Some routers also include this information on a separate reference card
Click the Wireless icon at the top right side of your screen.

Now you'll see a list of networks you can connect to. Select your router's Wireless name.

If Wi-Fi is off, you'll need to select Turn Wi-Fi On (or Turn Airport On if you're using an older version of OS X) to see the list.

You'll be asked for the password. This is the Wireless key (or password) printed on your router. Enter this and click OK.

With older versions of OS X, you may also need to choose a Wireless Security type. If this is the case select WPA Personal.

If you're having problems

Your wireless key is case sensitive, enter it exactly as shown
Watch out for 0, that's a number zero rather than a letter O

You're now connected to your wireless network. Open your web browser to start browsing!
If you want to check your connection, the wireless icon at the top right side of your screen shows what's going on. The bars on the icon indicate the signal strength. Clicking the wireless icon will show the name of the network you're currently connected to.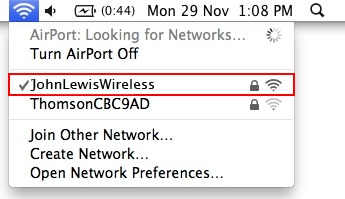 Service Status
For full details of our current issues or any maintenance work that could be affecting your service please visit our Service Status site.
Can't find what you're looking for?
If we've not been able to address your query through a support article please contact Customer support for further assistance.